Child, Family & Kinship
About 15 million children in the United States –
21% of all children
– live in families with incomes below the federal poverty threshold, a measurement that has been shown to underestimate the needs of families. Research shows that, on average, families need an income of about twice that level to cover basic expenses.
Reference:
NCCP | Child Poverty – National Center for Children in Poverty
Families living and working on the margins are vulnerable and are often the target of corporate enterprises that seek to extract profits or exploit primary wage earners.
---
Arizona Grandparent Ambassador Support & Advocacy Network
CEI provides technical organizing & outreach assistance to grandparent/kinship caregivers, in collaboration with other nonprofit organizations, in order to advance AZ Grandparent Ambassador public policy priorities in state-wide efforts
CEI educates the general public and key decision makers with regards to economic issues affecting children in Kinship care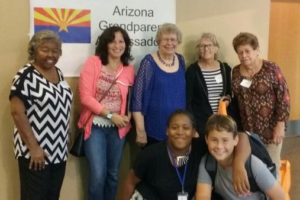 ANNUAL SUMMIT: Over 230 adults and children attended this year's summit at the Salvation Army Kroc Center in Phoenix, AZ on September 8th, 2018. This year's policy panel featured Arizona State House Representatives Rebecca Rios (D, LD27) and T.J.Shope (R, LD8) and Department of Economic Security Administrator for Foster Care and Post Permanency Supports, Gillian Vanasse. In the afternoon, clinical social worker Kenny Miller gave a presentation on trauma and attachment issues. Our keynote speaker was the Honorable Leah Landrum Taylor. Leah's leadership and passion for kinship issues made her a phenomenal presenter.
DAY AT THE CAPITOL: AZGA hosted a "Day at the Capitol" on February 20, 2018. There were many grandparent's raising grandchildren who attended this event for the first time. For some, it was their first ever visit to the state capitol. AZGA members were "group leaders" during the legislative visits. AZGA members lead groups of new grandparents speaking with their legislators for the first time. Responsibilities as group leaders included: thanking the legislator for their time, briefly explaining who the Ambassadors are, and briefly going over each bill grandparents were supporting or opposing. The new grandparents were encouraged to speak about personal examples related to the legislative bills that are of concern to kinship families. Group leaders also attended a short legislative training as part of the "Day at the Capitol" event.
ADVOCACY TRAINING: In January 2018 the Southern Arizona Grandparent Ambassadors (SAGA) hosted and attended an advocacy training, "Telling Your Story" and "Asserting Your Rights" in Tucson, AZ. Grandparent's learned how to effectively tell their family's story to make a lasting impact on policymakers; using personal stories to amplify kinship caregiver's issues in front of lawmakers. They also gained confidence and skills from a professional community organizer along with tips to strengthen their advocacy efforts with decision makers. The workshops provided a deeper understanding of the power these grandfamilies hold.
---
Early Childhood Education
Equal access to high-quality early education is essential for the future of children, families, business, schools, law enforcement, and our community's development. We must invest in ourselves if we wish anyone else to invest in us.
Strong Start Tucson is a project of the Center for Economic Integrity.
The local Tucson Ballot Initiative, Strong Start Tucson was soundly defeated by voters in November 2017 amidst surprising Democratic opposition. The initiative, if passed, would have increased local sales tax to pay for high-quality preschool tuition assistance for up to 8,000 3- & 4-year old children in low-income families (including grandparent and kinship families). Latino voter support was high but turnout was disappointingly low.
A concerted community outreach effort on this issue is underway. Community leaders from a variety of sectors including public education, business, nonprofit and local government are coming together to work through a proposed solution to this serious problem impacting Arizona's families. You can find out more about this issue by visiting the Strong Start Tucson website.